These Terms apply to everyone who accesses the Corbu Consulting Inc. Web site and other linked sites. If you're not agreeable with these Terms, you should discontinue using the corbuconsulting.com Web site. By using our site you acknowledge that your use of the Web site is at your sole risk.
The Legal Terms of Use of this Web Site are governed by, and construed in accordance with the laws of the Province of Ontario, Canada, excluding its choice law provisions. If you access this Web Site from outside Canada, you are responsible for complying with the laws of the Province of Ontario, Canada.
The material on this site is covered by the provisions of the Copyright Act, by Canadian laws, policies, regulations, and international agreements. Such provisions serve to identify the information source and to prohibit reproduction of materials without written permission.

The information on this site has been posted with the intent that it be readily available for personal, and public non-commercial use and may be reproduced, in part or in whole and by any means, without charge or further permission from Corbu Consulting Inc. We request only that:
users exercise due diligence in ensuring the accuracy of the materials reproduced;
Corbu Consulting Inc. be identified as the source by clearly displaying Copyright © 2005 Corbu Consulting Inc. All rights reserved.
the reproduction not be represented as an official version of the materials reproduced, or as having been made in affiliation with or with the endorsement of Corbu Consulting Inc.
Reproduction of multiple copies of materials on this site, in whole or in part, for the purposes of commercial redistribution is prohibited except with written permission from Corbu Consulting Inc. or from other copyright owners indicated on our site.
Some of the materials and/or graphical elements that are placed on the www.corbuconsulting.com site may be subject to copyrights held by other organizations. We make every effort to identify and clearly indicate these copyright privileges. In such cases, you may not copy, download, print, reproduce, redistribute, publish or use any of this material for any purposes without the prior express written consent from the rights holders.
The Corbu Consulting Inc. logo is a trademark of Corbu Consulting Inc. This Trademark is deemed to be used only by Corbu Consulting Inc. in association with its services or advertising of those services. All other trademarks used on this site are the property of their respective owners.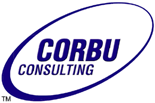 Corbu Consulting Inc. displays links to other Web sites only as a convenience to users. Corbu Consulting Inc. does not support these sites and is not responsible or liable for the accuracy, currency or reliability of their content. Corbu Consulting Inc. does not endorse any content, advertising, products, or other materials found on Web sites to which links have been provided. Furthermore, Corbu Consulting Inc. shall not be responsible or liable, directly or indirectly, for any damage or loss caused or alleged to be caused by or in connection with the use of or reliance on any such content, goods or services available through any such sites.
Links to the Corbu Consulting Inc. Web site from other Web sites must not display the content of this Web site, including logos, graphics or images within another environment, and shall not endorse our services unless express written permission has been granted. Moreover, these sites shall not imply relationship with Corbu Consulting Inc. and shall not misrepresent our services or products.
The corbuconsulting.com Web site is made available to visitors without warranties of any kind. We do not warrant that the information on our site is accurate, complete or current or that the site is available without interruptions or errors.
In no circumstances, shall Corbu Consulting Inc., its directors and officers, be liable for any direct, indirect, incidental, consequential or special losses or damages, or for any other losses, costs, demands, claims, expenses and/or legal costs whatsoever that may occur from the use or inability to use the corbuconsulting.com Web site. This limitation of liability applies without exceptions.
Corbu Consulting Inc. may make changes to any aspects of this Web site without any advance notice, including changes to these Terms.